Two protocols on the establishment of the diplomatic relations and development of bilateral relations initialed by Turkey and Armenia was discussed at the meeting of the Central Management Board of Republican People's Party (CHP).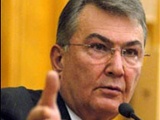 Leader of the party Deniz Baykal said though the protocols cover the written commitments concerning Turkey's actions, there is no commitment that Armenia will free Azerbaijan's occupied territories.
He mentioned that Prime Minister Recep Tayyip Erdogan said in Azerbaijani parliament on May 13 the borders with Armenia will not reopen unless the occupation of Nagorno Karabakh ends.
"But in the initialed protocols they accept the reopening of the border, while Armenia does not ensure that it will free the occupied territories," he said.
Deniz Baykal said there is no need for bilateral agreements to reopen the border.
"Turkish government closed the border in 1993. We can reopen the border, if we want. They say Armenia compromise. The points shown as Armenia's compromise have no practical importance. It is not clear for what we compromise," he said.
Deniz Baykal said Republican People's Party will not vote for the protocols, if Armenia does not free Azerbaijani territories.
/
APA
/