Minister of Economic Development of Azerbaijan Heydar Babayev on 2 June met with the visiting delegation of the Iranian Ministry of Industry and Mines led by Minister, Dr. Alireza Tahmasebi.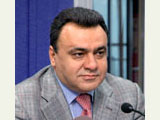 Accordin to AzerTAg, Heydar Babayev updated on the present economic situation of Azerbaijan, successfully continued economic reforms and the reached successes and prospects of economic development of the country. According to him, Azerbaijan takes leading position in regional projects, including in projects of restoration of Great Silk Road-TRACECA, a transport corridor North-South. He also stopped on dynamical development, available industrial and infrastructure potential of Republic.
Heydar Babayev has especially emphasized successful development of the international links. He has told, that the country highly assesses economic cooperation with neighboring Iran. As was noted, 'only in the first quarter of 2006 the volume of trade turnover between Azerbaijan and Iran has made 84,6 million US dollars, that for 89,7 percent is more in comparison with the corresponding period of the last year'.
With a view of the further expansion of ties between two countries, the governments of the Azerbaijan Republic and the Islamic Republic of Iran have set up an interstate joint commission on cooperation in economic, trade and humanitarian spheres. For today, 6 sessions have been already conducted, the Minister said, and negotiations are carried on for carrying out of the next session of the Commission. The Minister has declared, that the Iranian businessmen, too, show big interest in Azerbaijan, and that in 1993-2005, IRI has enclosed 360 million dollars in the economy of Azerbaijan, and there are larger opportunities for further development of links, he stressed.
Expressing gratitude for warm reception, Mr. Tahmasibi underlined that his country shows big interest in Azerbaijan's economy.
The guest noted that there are ample opportunities for cooperation in the organization of manufacture of cement in Azerbaijan, agricultural machinery (combines and tractors), and also in metallurgy, installation of turbines for power stations and in other areas. He suggested on creation of joint Investment Fund.
Heydar Babayev said that he highly appreciates offers and that for their consideration there will be created a working group in the Ministry, emphasizing, that all support will be rendered to expansion of links in other branches of economy.