Three main factors influence on growth of inflation in Azerbaijan.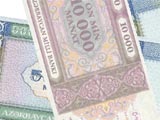 The agency Trend reports executive director of the Ministry of economic development Samir Veliyev informed about this 26 April.
He said, first is money-and-credit factor, particularly, expressing by growth of money supply, big mass of cash money in total volume of money supply and non-sufficient development of the market of securities. The second factor was structural causes, which proceeding from presence of monopoly, low development of non-oil sector and its small competitiveness. S.Veliyev called  the last factor, influencing inflation process in the state by as external ones,  increase of prices on energy resources at world markets, and also rise of price  of import from the states of European Union, due to rise of price of EURO.
S. Veliyev indicated among the measures, which are necessary for regulation of inflation projects, as strengthening of antimonopoly regulation, improvement of business climate, development of market of securities and formation of finances of State oil fund of AR for realization of capital projects, with aim they will not influence on increase of monetary supply in the state.