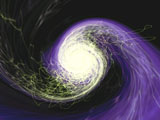 There is a special category of people who only partially exist in reality. In other words, they have their own world, a sacred place so to speak. A place, which is rarely seen or felt by someone else, who doesn't belong there. To me, it looks like a vortex of different thoughts, emotions, dreams, feelings, and actions all mixed up together.
When a child (we'll take a male as an example) is born, he is slowly being brought up in the real world that his parents (or whoever takes care of him) know of. As far as the vortex goes, it's a very unique thing, that, some believe, comes, as the times goes by. Not always, of course. A need in vortex starts to shape up, when a man feels the real world is pushing him away in one way or another (be it his personal problems or something else).
In fact, he has a few choices here, that he can undertake to "stay on track" (we're all aware of those, so no need to mention them). However, these choices have zero effect on some people, so they are in desperate need for something else.
Something ELSE. That something else is - the vortex reality.
Slowly, piece by piece, a man starts building up his own vortex reality. Vortex reality has no shape or meaning or form. Anyone seen John Carpenter's "The Thing"? If not - its a movie about a bunch of scientists in the Antarctic, where they are forced to battle a shapeless, formless alien that assumes the appearance of the people that it kills. As scary as it may sound - the vortex reality is pretty much the same thing. A man creates it by himself, not being able to see it, or feel it, and in time, it takes over "the creator", like a painless virus.
In many ways, vortex reality is a painkiller of some sort, that allows people to see or feel different things in different shapes. Mostly, this happens to artistic/creative people, who have rich imagination. In reality a man sees one thing, in the vortex reality he sees the same thing, but with a completely different meaning. Needless to say, such people are extremely sensual, quite stubborn at times, and are afraid to lose control.
As far as socialization goes, vortex reality hurts people. It sometimes prevents "the carrier" from staying in touch with reality, with real people. The key here, is to maintain the balance, which is hard to do at first. If the vortex develops further, it gets easier from there. If the man fails to maintain this balance...its a very thin line between sanity and insanity.
I personally believe that there's no "cure" from this vortex reality, as it sticks with you, even after you've gone up a few steps in life (got a job promotion, got married, etc). You exist of course, but you are not able to escape the vortex reality, as it sucks you dry as a drug. Most people do not know what to call it (might as well call it something else besides "vortex reality"), and they do their best to hide it.
The best advice here would be... - maintain your balance in real life, not in "vortex reality" If you fall for it once, it will never go away, you'll just stop noticing it as the time goes by.
T. Teymur
/Today.Az/