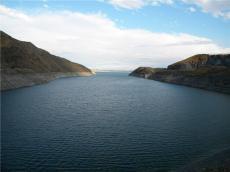 Uzbekistan adheres to the constructive and creative cooperation in the use of transboundary water resources, Bakhtiyor Abdusamatov, the chairman of the State Committee for Nature Protection of Uzbekistan, the head of the Uzbek delegation, said.
Abdusamatov made this statement at a ministerial conference entitled "Water and good neighborly relations in Central Asia" in Berlin.
The invariability of the country's position on the construction of large hydraulic structures in the upper reaches of transboundary rivers was emphasized in Abdusamatov's statement spread by the Uzbek foreign ministry.
"It will be impossible for Central Asia to achieve any of the goals of sustainable development till 2030 and a decent life for the more than 60 million population in the region without the rational and equitable use of limited water resources," Abdusamatov said.
"The norms of equitable and rational use of transboundary water resources, doing no harm and taking into account the interests of all countries of the basin have been enshrined in the international water conventions," he said. "We are convinced that they must be the basis of their joint use."
As for the projects that are being implemented jointly with international partners, the head of the state committee said that they should be directed towards achieving concrete practical results by taking into account the interests of all parties.
Uzbek side is ready to consider Germany's participation in the projects put forward as part of the third phase of the "Water initiative for Central Asia" taking into account their compliance with the interests and principled attitude of Uzbekistan, he added.
Continuing the implementation of the projects as part of the previous phases of the "Water Initiative" on reconstruction of irrigation and drainage systems, creating and developing the existing water reservoirs on the delta of the Amu Darya River is important, said the committee head.
Strengthening the potential of regional institutions, in particular, the International Fund for Saving the Aral Sea (IFAS) and its structural organizations is also of special importance, according to Abdusamatov.
Furthermore, the committee head said it is necessary to develop the automated water monitoring system as well as implement the projects for reconstruction of water meters and equipment along the transboundary rivers in the region.
He also urged to intensify efforts on introduction of modern water saving irrigation technologies, provision of population with clean drinking water in the region.
Large-scale programs and projects worth over $2 billion, aimed at the rehabilitation and upgrading of irrigation and drainage infrastructure, the introduction of water saving technologies, the development of water resources integrated management system, agricultural diversification have been implemented in the water sector of Uzbekistan over the past 10 years.
During the last 24 years, Uzbekistan has reduced the water intake by more than 20 percent - from 64 billion cubic meters per year to 51 billion cubic meters per year and by almost twice per capita. The reclamation state of 1.2 million hectares of irrigated lands has been improved in the country.