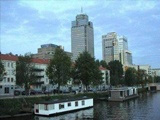 The 3rd congress of Benilux Azerbaijanis Congress (BAC) was held Saturday in Amsterdam. The conference brought together representatives of the State Committee for Work with Diaspora, members of the Azerbaijani, Dutch, Kazakh, Ukrainian, Romanian, Turkish communities, diplomats, students and journalists.
First the event participants saw a documentary on the 5-year activity of the Congress. Chairman of BAC Elsever Mammadov made a report at the event, highlighting the work done by the organization since the last congress to increase the awareness of societies of Benilux countries about the Azerbaijani realities. He said at the initiative of Azerbaijan`s first lady, President of the Heydar Aliyev Foundation Mehriban Aliyeva, weekend schools were opened in Amsterdam and Rotterdam.
Azerbaijani ambassador to the Netherlands Fad Isgandarov recalled President Ilham Aliyev`s remarks made at the 3rd Congress of World Azerbaijanis. He said President Ilham Aliyev instructed the Azerbaijani embassies to establish close relations with Diaspora organizations. Isgandarov noted BAC`s activity was an example for cooperation among Azerbaijani Diaspora organizations abroad.
The diplomat also underlined the necessity of integration of Diaspora organizations into the societies of countries where they operate. Official of the State Committee for Work with Diaspora Elnur Aliyev read out the congratulatory letter of chairman of the Committee Nazim Ibrahimov. New members of the board and chairman of the Congress were elected at the event. Sahil Gasimov was re-elected as chairman of the Congress.