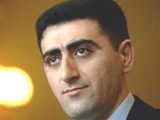 An action in support of Azerbaijani officer Ramil Safarov was held in Ankara, Turkey.
The action organized by ASIMDER, the organization for struggling against the groundless Armenian claims, was held outside the Hungarian embassy in Ankara. Citizens of the Republic of Azerbaijan and Iranian Azerbaijanis attended the event.
The participants said that Hungarian court didn't consider extenuating motives while sentencing Safarov and demanded to reargue the case.
They also emphasized the importance of Safarov's serving remaining part of imprisonment in Azerbaijan.
A high-ranking official of the Hungarian embassy in Ankara met the action participants and promised to deliver their written statement to his country's officials and after evaluating it they will inform the action organizers about the developments.
Safarov was charged with killing of Armenian officer Gurgen Margaryan in Hungary and sentenced to life imprisonment on April 13, 2006 by the Budapest Court.
/
APA
/