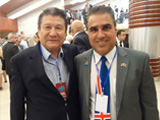 The 3rd Congress of world Azerbaijanis brought together some 579 out of 600 delegates from 42 countries as well as 211 people from 30 countries who attended the 3rd Congress as guests.
The Congress brough together a total of 1,872 people, including 182 heads of Azerbaijani communities and associations abroad, and 37 parliamentarians from 13 countries. As the Head of the Island-Azerbaijani society "Azeri", Zakir Hasanov said, the congress went on smooth.
"It was all great, I got amazed with Azerbaijani president Ilham Aliyev's speech, when he talked about our nation, our development and active work of the diaspora. Speeches of the congress guests' from Belgium, Latvia, once again proves that the world is aware of our territorial problems," he said.
"Azerbaijani diaspora in Island is not big, yet I try to do my best to inform the locals about our country, and the goals that we pursue. That of course includes the truth about the occupation of our lands by Armenia. Aside from that our society holds meetings, organizes cultural events, we try to do as much as we can in this regard. And now, that we've won "Eurovision-2011" contest, this would give us even bigger exposure, and its a great chance for other countries to know more about Azerbaijan."
Hasanov also spoke about how his native city changed since he last been here.
"Last time I was in Baku back in 2007, on the World Forum of Azerbaijani and Turkish diasporas. Afterall, Baku is where I was born and grew up. I lived here for 19 years. I should note that Baku is getting bigger and more developed with each year, one has simply to drive around to see all the improvements that have been made."
"Speaking of driving around...I've had one unpleasant incident in Baku, while I was here. Everything was great, until I decided to take a car, and drive around with my kids, to show them the city. Eventually I ended up on the sideroad, when a policeman stopped me. I wasn't doing more than 30 km/h, however I still got pulled over. I've been in many European cities, but this kind of rough treatment is only felt in Baku. Policeman stripped me of my driving licence, and didnt even tell me where to go get it back. My explanations of who I am didnt matter at all to him. Anyway, I got my licence back in a week, and had to pay the fine as well. Aside from this incident, the visit was great, very fruitful, and I enjoyed my stay here.", noted Hasanov.
/Vesti.Az/