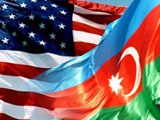 US citizen of Azerbaijani descent, Paul Murad is a Democratic front-runner to take the office of lieutenant-governor of the US State of Nevada.
According to the Turkish "Sabah" newspaper, Murad`s chances in the primaries are considered high.
Lt. Governor candidate Paul Murad got some encouraging results in a straw poll by the Stonewall Democratic Club of Southern Nevada.
Murad won 73% of ballots.
Primary and general elections are scheduled for June and November respectively.
Murad met with heads of Turkish communities last week in New York.
He stated he is going to create new jobs in the State.
/AzerTac/