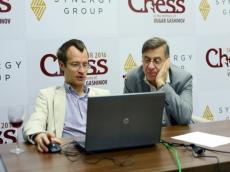 By  Azertac 
All parts of the "ShamkirChess 2018" Super Tournament in the memory of Vugar Hashimov will be in live. According to the Press Service of the tournament, it will be possible to watch all games in live via the official website of tournament - www.shamkirchess.com.
All parts will be commented in Azerbaijani and in English respectively by Anar Allahverdiyev, honored trainer, chess grandmasters with Lyubomir Lyuboyevich (Serbia), an International grandmaster, and Iqor Henkin ( Germany).
It will also be possible to watch press conference of chess players on-line, besides the parts.