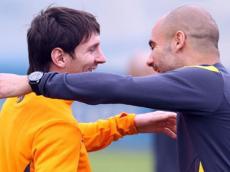 Bayern Munich coach Josep Guardiola will fly to Brazil to see Lionel Messi after Argentina's clash with Nigeria on 25th June, according to newspaper 'Sport'.
"The player and coach established such a tight relationship [during the coach's time at Barcelona], that Guardiola intends to meet up with the player after the Argentina-Nigeria match on 25th June," reported the Spanish newspaper.
"According to sources near to the coach, Guardiola's plan is to go down to the dressing room after the game and meet with the player," added 'Sport'.
Guardiola will be in Buenos Aires the day after in order to give a talk entitled 'The World Cup in Pep's Eyes' at the Luna Park stadium.

/Marca/