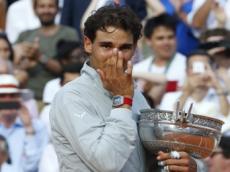 No matter whatever else happens in tennis' clay-court season, Rafael Nadal is almost an automatic at the French Open.
Nadal won an unprecedented ninth title at Roland Garros and now only trails Roger Federer on the men's grand slam ladder after seeing off Novak Djokovic 3-6 7-5 6-2 6-4 on a third consecutive day of steamy weather in Paris, which did no favors for the Serb -- who appeared to vomit slightly in the last set.
Their tussle couldn't compare to last year's five-set classic in the semifinals or their six-hour duel at the Australian Open in 2012 but the final outcome, to Nadal's delight, is that he tied Pete Sampras on 14 majors, three behind the 32-year-old Federer.
"You are a great champion, Rafa," Sampras said in an email sent to CNN. "Congratulations on number 14."
Nadal was supposed to be vulnerable here. He merely won one European clay-court title this year before Paris, his lowest haul since 2004 -- and that year the Spaniard skipped the campaign's second major.

/CNN/