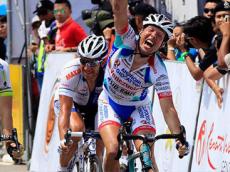 A member of Androni Giocattoli-Venezuela team won the first stage of the Tour d'Azerbaidjan, the tour's official webpage reported.
The Tour started in Baku on May 7.
After pedaling 158 kilometers from Baku to Sumqayit, Kenny Van Hummel (NED) pulled away for a clear win.
Vitaly Buts of Kolss CT and Davide Vigano of Caja Rural rounded out the top three. The Dutch rider also took the first leader's jersey of the race. Maksym Averin of the Azerbaijan's Synergy Baku Cycling Project finished fourth.
The fast race was helped on by the day's strong winds. After leaving the Baku waterfront, the peloton quickly split into three groups. The first group of some 40 riders worked well together. Eventually the cyclists came back into two groups, and pretty much stayed that way to the end - with a rather large gap.
The field had the first ranked climb of the race in the first stage and a category of three ranked climbs at 58 km. The first one over was Vitaly Buts of Kolss CT, followed by two Synergy Baku Cycling Project Riders, Averin and Aleksandr Surutkovych.
With a large gap, two groups came into the final six laps of the 10 km closing circuit course. With three laps to go, a four-man group broke away.
Klemen Stimulak (Adria Mobil), Youcef Reguigui (MTN-Qhubeka), Luis Mas (Caja Rural) and Mykhaylo Kononenko of Kolss Cycling Team held on to their small lead of up to 30 seconds as long as they could, but with the sprinters determined to have their way, they were caught again in the last lap.
Van Hummel was pleased with his second win of the season. "I was shaking a little bit before the start, because there was so much wind. I think after 5 km we had already split the group. It was hard, but just before the laps of the closing circuit started, the first two groups came together."
"There were some attacks in the final course, but my team did a good job bringing me to the front with 500 meters to go. With 300 meters to go, I put down the hammer and then I was there," he stressed.
The traditional race has gathered 150 cyclists representing 25 teams from 33 countries this year.
Organized by Azerbaijan Cycling Federation, the tour was held twice in Baku and Azerbaijani regions in May.
Holding the annual cycling competition in Azerbaijan shows the rising domestic interest in this sport.