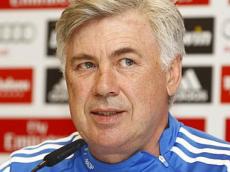 Carlo Ancelotti talked to reporters ahead of must-win match against Valladolid and stressed that his side will have "lost the title" if they fail to get three points at the Nuevo José Zorrilla stadium.
Barça-Atleti: "Barça will play all out against Atlético. In all competitions, the final games are played at the same time, so I think that will be the case here as well."
Bale and Carvajal are both out: "Cristiano is tired, but he's going to play. Bale is out with a knock and the same goes for Carvajal".
A six-pointer: "It's a cup final because it's a crucial game for both teams. That's how we have to approach it. It won't be easy playing against a team that are fighting for their lives".
Illarramendi has come under fire: "He can stand in for Xabi because he has the same attributes. He didn't play well against Valencia, but that has no bearing on the future. Khedira's fitness is getting better; he'll be available tomorrow and could play. If he doesn't get many minutes we'll arrange a little match for him and Arbeloa. I don't know if Illarra will start tomorrow".
The debate over third-party incentives: "I don't understand it because I don't think players need money to be professional. It's not as serious as paying someone to lose, but players don't need a bonus to be more professional - they should be professional anyway".
Winning all three remaining games: "It's the only option we have if we want to be champions. That's our aim; Atlético have the upper hand because four points is all they need to win the title, but we'll see what happens".

/Marca/