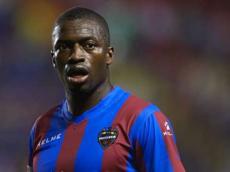 The Senegalese midfielder said he tried to diffuse the situation by dancing in front of the offenders, who made monkey chants during the game
Levante midfielder Papakouli Diop says he was racially abused by Atletico Madrid fans during his side's 2-0 win over the league leaders.
Racism in Spanish football has been in the limelight recently after a Villarreal fan threw a banana at Barcelona's Dani Alves during their clash last week, and the Brazilian defender drew praise for his reaction as he picked it up and ate some of it.
And Diop took a similarly light-hearted approach as he says he danced in front of the opposing fans, who made offensive chants towards him during the game.
"I was going to take a corner and some of the Atletico fans started making monkey chants," he told reporters.
"To defuse the situation I started dancing but I didn't insult anyone.
"I have nothing against the Atletico fans because it was only a section who chanted.
"It's a lack of respect you get at all stadiums. It's a provocation. I don't know if you can call it racism but these monkey chants have to stop."

/Goal.Com/