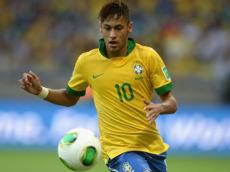 Neymar could "possibly" play the role of central striker for the Brazilian national team if the squad were to need him to as a result a lack of strikers for the 2014 Brazil World Cup, said head coach Luiz Felipe Scolari.
Felipão explained that Neymar has already played in that position in some Barcelona games, although he said he would prefer to have a centre-forward with a different profile.
"I like to have a striker with good positioning in the area, who is tall to get on the end of balls coming into the box and knows how to take up a defensive position when required", Scolari explained at a press conference.
The manager said that for the World Cup he hopes to include two such strikers, although on the list of 16 players that he called up on Tuesday, for a friendly to be played against South Africa on 5th March, there isn't a single striker with that type of profile.
Scolari has so far named 16 players that play for European clubs for the South Africa friendly, and on the 24th he'll add another "three or four" players from Brazilian teams, which will include at least two strikers and one goalie.
Fred, Brazil's main striker and the top scorer at the Confederations Cup, has barely played since last August due to muscular injuries, and in the absence of this key player, the number nine position has generally been taken on by Jô, a striker with Atlético Mineiro.
The delay in naming players from Brazilian clubs is partially down to Fred's latest injury, although it is also because the Brazilian season has just got underway and the players are still getting going, explained Scolari.

/Goal.Com/