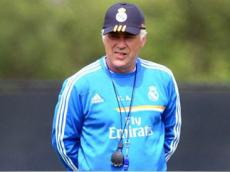 Real Madrid coach Carlo Ancelotti reiterated to the press that he has no plans to let any of his charges leave in the winter transfer window.
The Italian also quashed any talk about bringing in players, instead praising the strength of his squad.
"No one at the club has spoken to me about the subject and we're quite sure that there will be no comings or goings. We have a very good squad, the players are in good shape, we have no special injuries and we hope to have Varane back in the next fortnight. So we don't need anyone", he stated.

/Marca/