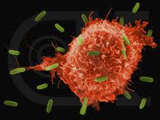 The experimental research and testing laboratories functioning in "Nizami AS" in Azerbaijan invented a food solution that destroys cancer cells and cells of diabetes.
The solution that we have been working on for many years will prevent the enhancement of cancer, head technologist of the lab Chimnaz Aliyeva told Trend. "Since the solution has a preventive effect, it can be taken without consulting a doctor," - said Aliyeva.
This arbitrary solution having a wide range of functionality, destroys cancer cells, nourishes the atomic-molecular structure of ligaments. It has a complicated biochemical and biophysical properties which include new compounds of vitamins, hormones and enzymes, as well as compositions of neon with a specific form and function..
The work on this solution was carried out since 1998 in Azerbaijan.
According to the head technologist of the plant, the documents regarding the invention of the solution were sent to the patent department of the Azerbaijani State Committee for Standardization, Metrology and Patents.
/Vesti.az/