Preliminary hearing on the case of the organized gang, which is accused of forming a group "Forest brothers", committing a number of crimes, including terror attack on Abu Bakr mosque, is held in the Court of Grave Crimes.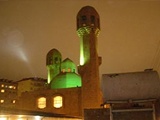 According to APA, identification of accused persons and other procedures take place during the preliminary hearing of trial presided over by judge Karamat Aliyev. Gudrat Malikov, Vahid Asadov, Ulfat Maliov, Rafig Aghacanov, Anar Valimatov, Rufat Rzayev, Mammad Mammadov refused to use the services of public lawyers. Other defendants were rejected in their refusal of public lawyer because of language barrier. Aggrieved person Nadir Usubaliyev said it was incorrect to hold the process because two of the people, committed explosion in the mosque, are still at large. Judge Aliyev said the case would be reviewed in the phase of indictment. Imam of Abu Bakr Mosque Haji Gamat Suleymanov also attended the trial as an aggrieved person.
The judges left for consultations to schedule the judicial survey.
The process will be continued in the second half of the day.
The defendants faced charges under Articles 214 (terrorism), 120 (premeditated murder), 279 (creation of armed formations or groups, which are not provided by the legislation of the Azerbaijan Republic), 228 (illegal purchase, transfer, selling, storage, transportation and carrying of fire-arms, accessories to it, supplies, explosives) of the Criminal Code. 26 were detained during the initial investigation. They are Azerbaijanis Elnur Bashirov, Gudrat Malikov, Khalid Valimatov, Ulfat Malikov, Vahid Asadov, Zabit Shikhbabayev, Fariz Mammadov, Samir Babayev, Anar Valimatov, Rasim ISgandarov, Elshan allahverdiyev, Rafig Agajanov, Taleh Maharramov, Teymur Narimanov, Bozorgi Kamran, Azer Bakhishov, Musa Orujov, Alexander Nuraliyev, Mammad Mammadov, Elkhan Osmanov, Zaur Jafarov, Rufat Rzayev, Sardar Bunyatov, Russian citizens Magomed Isayev and Turkish citizens Yamin Ali and Ozdemir Ergin.
According to indictment, Ilgar "Abdulmajeed" Mollaciyev from Zagatala Region of Azerbaijan, his brother-in-law Samir "Suleyman" Mehdiyev and other persons involved in radical religious group with them were identified implicated in an explosion in Abu Bakr mosque in Baku on August 17, 2008. The Ministry of National Security arrested the Sumgayit group (Abu Jafar group) of 17, including the group's leader – Naif Abdulkarim Al-Badawi in 2007. Later Mollaciyev and Mehdiyev formed a new group planning to commit terrorist attacks to violate socio-political stability in Azerbaijan. 13 members of the group were arrested by the Ministry of National Security and large deal of ammunition, explosives, schemes, instructions, communication means, maps, battle instructions for the mountainous and forestry areas, military equipments and others were confiscated from them. Two of them – Taleh Maharramov and Samir Babayev gave detailed evidences about the activity, plans and intentions of the group. They said those persons helped Samir Mehdiyev, Ilgar Mollaciyev and others, who illegally crossed the state borders of Azerbaijan on July 19, to arrive in Baku and Sumgayit. The first part of the "Forest Brothers" – "Sumgayit Jamaat" had to commit robberies in Baku and to collect money to fund armament and terrorist attacks. The second part – "Guba and Gusar Jamaat" had to set military camps in the mountainous and forestry areas of the republic. Member of the "Forest Brothers" Araz Balabeyov and several others, were killed during the anti-terror operations in southern regions of Dagestan.
/APA/