A new memorial to the Khojaly tragedy will be erected in Baku on February 26.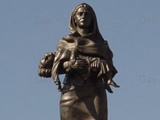 The due announcement was made by one of the sculptors of the said memorial Teymur Rustamov.
"The old one was created in a hurry and it failed to reflect the tragedy. Therefore, it was decided to replace it with our memorial. The new memorial will be bigger than the old one. If the old one was 4 meters high, the new will near 9 meters in height together with its pedestal.
Moreover, 3 reliefs on basis of materials, shot by Chingiz Mustafayev, will be added to the pedestal. Chingiz Mustafayev will also be featured on this monument. Certainly, it will be figurative, but people will understand, that it is him", Rustamov said.
He said black granite and bronze were used for the memorial. The height of the memorial makes up 3.2 meters.
The memotial opening ceremony is expected to be attended by state figures and representatives of various diplomatic missions.
Rustamov refused to call the amount spent for the erection of the monument, noting that the project was initiated by the Executive Powers of the Khatai district of Baku.
The authors of the memorial are Teymur Rustamov, his father Aslan Rustamov and brother Mahmud Rustamov.
It should be noted that the memorial will locate not far from the Khatai metro station.
Click on the photo for a larger image:
/Day.Az/