The villagers of the Salyan region used to make a living hunting ducks and geese that live in the lush wetlands. But since February 2006, when there was an outbreak of avian influenza in Azerbaijan and seven people died, a hunting ban has been in place.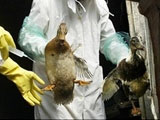 For the many households that relied on income from hunting fowl and selling poultry and eggs, it has been a difficult period.
"We are afraid of the flu and of getting the disease," said one villager. "We have made big changes to our behaviour and lifestyles, and it has been very hard."
Prevention messages
The 2006 outbreak triggered anxiety and a feeling of helplessness in affected communities, but it has also motivated people to come together, support each other and search for common solutions. Meeting regularly, they discuss important shared concerns such as environmental issues and water quality.
In the village of Sarvan, where four out of the seven deaths from bird flu occurred last year, one man spoke out passionately for his local group. "We have a strong advocacy campaign in the region," he said. "We work with doctors and health specialists in order to inform people about health issues in general."
UNICEF, the World Health Organization and government partners have worked hard to quickly pass prevention messages to communities via national and district TV. In addition, they are distributing information for children and teachers to every school in the country and working with child-friendly media to raise awareness among families and young people.
Home-grown solutions
Thanks largely to unfailing cooperation from local communities, the effort to educate the public about bird flu prevention seems to be working. Villagers not only apply the recommendations – such as keeping children away from birds, keeping poultry in closed spaces and practicing preventive hygiene – but the communities have also come up with their own solutions for stopping the potential spread of the virus.
To reduce the number of people at risk of infection, communities have suggested that only one person per household should have contact with poultry and eggs, and should do so only with proper handling and cleaning techniques.
"Avian influenza is already affecting the lives and livelihoods of families and children in our region, with children accounting for about half of all reported human cases and a third of deaths," said UNICEF Representative in Azerbaijan Hanaa Singer. "Our immediate and biggest challenge is to increase public awareness and to set up an effective surveillance system."
Hungry for information
Over a year after the deadly avian influenza outbreak in Salyan, people remain hungry for more information on the disease, its origins and prevention. Materials such as UNICEF information pamphlets that children bring home from school are eagerly read.
Local district officials continue to work in their communities with a focus on changing behaviours.
So far, the ongoing education of adults and children has led to concrete changes that have helped prevent any more deaths due to bird flu in Azerbaijan. UNICEF