"Eldar Pine State Nature Reserve will be enlarged in future," Ecology and Natural Resources Minister Huseyn Bagirov told the journalist.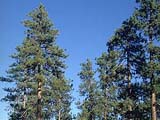 The minister got acquainted with construction works in the reserve situated in Samukh region, and noted that at present the area of the reserve is 1,600 hectare.
"Eldar Pine Nature Reserve was in the composition of Geigol nature reserve and its area was 390hectare. On president's decree issued on December 16, 2006 Eldar Pine State Nature reserve was founded. At present this reserve surrounds 1,600 hectare area and complex has been founded in the reserve, but this is the beginning of the taken measures. The area of the territory can be enlarged in future," the minister said.
Huseyn Bagirov said that at present the ministry works on the project concerning the enlargement of the territory. "Our main goal is to protect one of the rare trees of the nature Eldar Pine. We do our best to protect the reserve," the minister noted, APA Western bureau reports.