Azerbaijan's Court of Grave Crimes continued the trial of the gang led by Haji Mammadov, former high ranking official of the Interior Ministry Crime Investigation Department.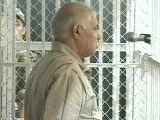 Public prosecutor announced confrontation records of Zakir Nasirov and Mammad Mammadov, the chief Azersigorta state Company, kidnapped Ahmed Mammadov's father.
During the confrontation Mammadov said that he knows Zakir Nasirov. "I asked Zakir to help me when my son was kidnapped. I have meet Ramil Usubov and he gave instructions to Zahid Dunyamaliyev," Mammadov said.
Then the confrontation records of Mammadov's brother Elmar Mammadov with Zakir Nasirov were announced. "We met with Zakir Nasirov and Zahid Dunyamaliyev ten days after Ahmad's kidnapping. Zakir told that there was an agent who know Ahmad's place. Zakir said that he had to give $ 100 000 to that agent and they will release Ahmad by his help. My father agreed with that offer, but Ahmad was not released. We gave money and released Ahmad by ourselves and after it Dunyamaliyev told my father that he was not a real agent. I do not cast aspersion on Zakir. He himself was there too," he said.
Zakir Nasirov said there was no talk about the agent Mammad Mammadov's initiative. Nasirov said that he wants the witnesses and victims to give testimony even against him. Later confrontation record between Nasirov and Haji Mammadov was announced. Mammadov said that he agreed with Nasirov and Kamil Sedreddinov on kidnappings. "We talked about Ahmad Mammadov's kidnapping and after that we kidnapped him. The ransom was received twice. We also agreed on sharing the money. I gave Zakir $ 150 000 of $ 450 000 for the first time and for the second time $ 100 00 of $ 400 000. I talked separately with Kamil and Zakir on Zeynalabdin Babayev's kidnapping. Zakir agreed to it, and knew the approximate place where we kept Zeynalabdin. I gave Zakir $ 200 000 near the Narimanov Court. I gave Zakir $ 200 00 on Murad Kazimov's kidnapping. From Majid Mammadov's kidnapping I gave Zakir EURO 500 000 and $ 100 000 of EURO 2m and $200 000. Zakir kidnapping was also agreed with Zakir. If I had got money I would have given him. Zakir was unaware of Azer Ismayilov's murder. I told him later. I used to give money Rovshen Aliyev for Azer's case. He used say that do not to worry," he said.
Zakir Nasirov called all these false. "I do not accept Haji's testimony," he said.
Later the record of Nizami Abdullayev's testimony on the Azer Ismayilov's murder was announced.
Abdullayev said that he found Ismayilov's naked body in his house in Keshle.
The trial will be continued on November 22, APA reports.