Azerbaijan's Court of Grave Crimes today continued the trial of the gang led by Haji Mammadov, former high ranking official of the Interior Ministry Crime Investigation Department.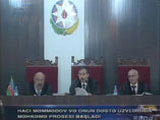 Anver Abbasov, the chauffeur of International Bank Sebayel branch chairman Elchin Aliyev, Leyla Gurbanova, his secretary and other bank employees gave testimonies. They confirmed the testimony given to the investigation.
Then Adil Ismayilov, the lawyer for Zakir Nasirov accused the public prosecutors of being in different to criminal case. He said that they carry accusations by the order of Zakir Garalov, Prosecutor General. "I disputed with the public prosecutors about their questions against Zakir Nasirov. He is not a defendant, but a victim. He was accused by tendentious testimonies of Haji Mammadov, Naile Guliyeva and Farhad Mammadbeyov," he said.
Nasirov said that his lawyer's solicitation is just. "I was put in prison four 16 months unfairly. I have no protector, that is why I am here," he said.
Nasirov also accused the court of not asking some important questions.
Abdulla Yusifov, the public prosecutor accused Adil Ismayilov of making public the trial in mass media.
The trial will continue on November 2, APA reports.