Our 10 sportsmen left for Israel to participate in the 17th World Jewish Sports competitions called "Maccabiah".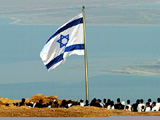 According to the information given to APA from the embassy of Israel in Azerbaijan, the representatives of Jewish communities in different parts of the world attend the "Maccabiah".
These competitions will bring together more than 50 sportsmen now. Azerbaijani sportsmen will compete in 5 kinds of sports (judo, karate, swimming, chess and table tennis).Azerbaijan National Olympic committee sponsors the participation of Azerbaijani sportsmen in the Maccabiah Games.
The sportsmen were received by Israeli consul in Baku Mikhail Barken before leaving for Israel, he wished them success and religious man said a blessing over them.