The chairman of the State Committee on Work with Refugees and Internally Displaced Persons, the deputy of the prime-minister Ali Hasanov held a press-conference in headquarters of YAP.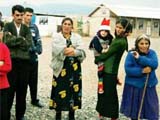 A.Hasanov reminded that large conference was held at the president about the problems of the refugees and internally displaced persons and said that in accordance with the instruction of the head of the state, 10 combine harvesters will be immediately purchased for the internally displaced persons living in the regions released from occupation. However, as the process of purchasing these harvesters will take 15-20 days it was intended to purchase the techniques with privileged rent from the neighbor regions. The Upper Mil canal which has special significance in irrigating ploughed fields will be restored on a commission from the president. At the same time, repairs of the hostels of the internally displaced persons will also be realized.
A.Hasanov informed that it was determined that 268 hostels situated in Baku, Sumgayit, and other regions and cities need to be repaired. 77 hostels will be repaired in the first stage. 56 of them are situated in Baku, 21 in Sumgayit. 20 milliard manats are required for repairing the hostels. Approximately 5 milliard manats are required for paying the allowances called money for bread to the internally displaced persons by means of the bank-machines. These means will be paid by the Finance Ministry. The Committee intends to build the Olympic Complex in Guzanli village of Aghdam on the account of the State Oil Fund.
A.Hasanov also expressed his relation to the question about the internally displaced persons being withdrawn from the objects where they settled. He said that the internally displaced persons settled in 1992-98 can not be withdrawn from the territories they live. The chairman of the committee said that he hopes that the chairman of the Supreme Court Ramiz Rzayev will give relevant instructions on taking measures on some persons putting pressure upon the internally displaced persons in connection with this question.
A.Hasanov also spoke about the high poverty level among the internally displaced persons. According to his words, though the poverty level among the population reduced from 49 % to 40 %, this number is 72,5 % among the internally displaced persons: "The poverty level among the internally displaced persons has reduced 2-3 % for the last years".
A.Hasanov informed that there are 311 thousand refugees in Azerbaijan at present: "250 thousand of these refugees are displaced persons from their grandfather's lands; 50 thousand persons are the Akhiska Turks come from Uzbekistan, 11 thousand persons are the refugees come from the third country. The number of the displaced persons is 700 thousand persons. The displaced persons settled compactly in 68 regions of the republic are 1650 objects".