A seminar on application of the distance learning in Azerbaijan will be held at the Azerbaijan State Economic University on 1-2 June 2005.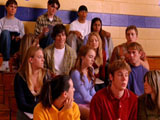 The seminar is arranged by the US State Department Education and Culture Bureau Program, Trend was told at the Azerbaijan's Ministry of Education.  
Prospects for distance learning development, its alliance strategy, use of informational technologies in this sphere will be discussed at the seminar.
The Azerbaijan's Minister of Education, Misir Mardanov, leading teachers of Higher educational institutions and specialists in this field will take part in the seminar.