President Ilham Aliyev has congratulated Azerbaijani women on the occasion of March the 8th-International Women's Day.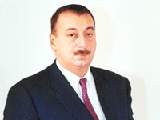 The congratulation runs," Azerbaijani women played great role in the fate of our nation for centuries. The greatest respect to the word woman, eternal love for mothers found its reflection in our word and art monuments. Azerbaijani woman's beauty, her moral purity, her braveness, devotedness who donated genius personalities to our history was described by our well-known art figures in their works regularly."
Stating that, Azerbaijani women were historically success the head of the state stressed of our women to be leading member of democratic society in our independent republic. I.Aliyev said of women to have played important role in the work done for making Azerbaijan developed and prosperous state, "Azerbaijani woman is bringing up our youths in the spirit of devotedness to the home country and making them be worthy sons for our nation, society gloriously in the period when one part of our native territories is under occupation."
The information was spread by press service of the President's Office. /APA/