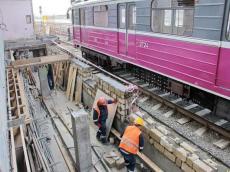 By Azernews
By Abdul Kerimkhanov
Access to Bakmil station is temporarily restricted, the Baku Metro reported.
From 6 October, within the framework of planned scheduled reconstruction at Bakmil station, access to the station will be temporarily blocked at certain times of the day. Passengers will not be able to use the service from 8:20 to 17:00.
"It is known that these restrictions apply to phases from August 8, 2018. The goal is to ensure the safety of workers engaged in repair work in the station, and that necessity arose from this requirement.
It should be noted that modernization of Baku Metro station's only surface station, Bakmil station, is a requirement of the day to modernize equipment and facilities that do not meet modern requirements, as well as repair and restoration of other infrastructure.
During the scheduled hours of the day (8:20-17:00), passengers are encouraged to use alternative vehicles. It should be added that there is a bus route between "Bakmil" and "Koroglu" stations during the time limit for entry and exit of passengers at "Bakmil" station.
Baku Metro CJSC management apologizes to passengers for temporary discomfort, the organization said.
Previously, Khatai metro station was closed for repairs. Three old escalators will be replaced with four new at the station.