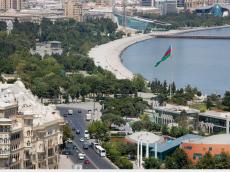 By Arye Gut
In recent years, the State of Israel has pursued a multi-vector foreign policy. This policy brings considerable foreign policy dividends to Israel, especially during the voting in international organizations, and in terms of development of economic ties. Israel is a very close ally of the United States and maintains quite good relations with many other countries in American continents. Israel closely cooperates with both European and Asian countries. But there are several countries which have special strategic relations with Israel and the leader of the South Caucasus, Azerbaijan, is one of them.
Today it is a historical fact that no country in Eurasia has closer or warmer ties with Israel than Azerbaijan. The relationship between the two countries is particularly surprising because Azerbaijan is a majority Muslim country. Over the 25-year history of diplomatic relations between Azerbaijan and Israel there have been a lot of positive moments between two countries and peoples. These two countries proved the necessity and viability of the relationship between the Jewish state and the state with the Muslim majority. Our friendly states act as true and stable strategic partners. Azerbaijanis and Jews, in fact, can not only coexist, but also develop and strengthen relations.
Political and economic interests play a special role in developing and strengthening relations between the countries. I am more than confident that human relations, a human bridge between the Azerbaijani and Jewish people, play a special and vital role in the relations between Israel and Azerbaijan. We can look at the recent history of these relations and actually see the reflection in today's reality.
Relatively few people outside the Azerbaijani or Jewish communities know about the remarkable role that the Jewish community has played in Azerbaijan. Moreover, throughout the Soviet period, Jews played a major role in the intellectual, economic and political life of Azerbaijan.
Unlike many cultures, Azerbaijanis have never viewed Jews as foreigners or aliens. Israelis with roots in Azerbaijan are doing a great deal to foster the economic and even geopolitical cooperation between Azerbaijan and Israel. The Jewish people have never experienced harassment, insults, pogroms and anti-Semitic actions in Azerbaijan. Every Jew who has ever visited Azerbaijan can confirm that the Jews living here can quietly visit a synagogue without going through a police cordon, walk around the city in their national clothes and with a bale on their heads. But doing so in developed countries of the West can be dangerous. At the same time, official Baku has repeatedly denounced manifestations of anti-Semitism elsewhere and Azerbaijan today is a center and wonderful multiculturalism example to the rest of the world. This is why Jewish Azerbaijanis love Azerbaijan and always promote geopolitical, economic and humanitarian cooperation between Israel and Azerbaijan.
A predominantly Shiite Muslim country, Azerbaijan is also home to several other ethnic and religious groups, including ancient Zoroastrian, Christian, and Jewish communities.