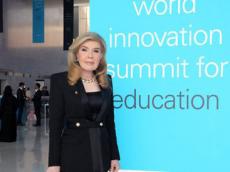 ELPIDA Friends' Association of Children with Cancer very much appreciates Azerbaijan's support in its efforts, which expresses the humanitarian feelings, the mutual esteem and the great friendship shared by Azerbaijan and Greece, UNESCO Goodwill Ambassador, ELPIDA Association President, Marianna Vardinoyannis told
Trend
in an interview.
Mentioning Azerbaijan's Heydar Aliyev Foundation, Vardinoyannis said that the foundation stands next to ELPIDA as well as Marianna V. Vardinoyannis Foundation, and added that this year there are many cultural events in Greece with outstanding Azerbaijani performances.
She said one of those events is aimed at supporting Greek schools.
"It will be a special performance at the historical Odeon of Herodus Atticus at the Hill of Acropolis, which will be held on September 27, 2014," Vardinoyannis said.
Vardinoyannis noted that through an "Affiliations Program" the ELPIDA Association established co-operation with Azerbaijan and the Baku Thalassemia Center.
"Azerbaijan was one of the first countries that responded immediately to our call in 2013. We have a very high percentage of success on treatments of thalassemia," Vardinoyannis stressed, adding that some 95 percent of cases turned out to be successful, and the patients were cured.
She also expressed hope for strengthening co-operation with the Baku Thalassemia Center within the framework of an alliance for the benefit of children of Azerbaijan and Greece, which will bring the two countries even closer.
Vardinoyannis also said Azerbaijan's First Lady, Heydar Aliyev Foundation's President, UNESCO and ISESCO Goodwill Ambassador Mehriban Aliyeva was the first person from Azerbaijan to visit the ELPIDA Association.
"In 2009, we were honoured to welcome the First Lady of Azerbaijan, Mrs. Mehriban Aliyeva, with whom I share a very close friendship through our missions at UNESCO as Goodwill Ambassadors, to our ELPIDA Guest House. She was the first person from Azerbaijan who visited us and since then she is one of our great supporters," Vardinoyannis stressed.
During a state visit of Azerbaijani President Ilham Aliyev to Greece, on June 15, 2014, Mehriban Aliyeva once again visited the ELPIDA Friends' Association of Children with Cancer in Athens.
During the visit to the association, Vardinoyannis presented the ELPIDA Prize to Azerbaijan's first lady.
"This year, Mrs. Aliyeva visited our hospital and we honoured her for her tremendous support. I treasure these memories in my heart and mind, especially of those most touching moments when Mrs. Aliyeva gave presents to children, brought a big smile on their faces and tried to encourage their parents," Vardinoyannis added.
Touching upon the activities of the ELPIDA Friends' Association of Children with Cancer, Vardinoyannis said the association was founded in 1990.
"In 1993, we created the Bone Marrow Transplant Unit, where about 700 children received transplantations until today. In 1999, we inaugurated the Guest House of ELPIDA where more than 1,600 families, coming from all over Greece and other countries, have been hosted until now, for 1 to 2 years time," she said.
"In 2010 we inaugurated the Oncology Children's Unit 'Marianna V. Vardinoyannis-ELPIDA' which was the first oncology children's hospital in Greece," Vardinoyannis said.
"During the past year, we organized and established the Bone Marrow Donor Bank named 'Orama Elpidas', and we launched the campaign for the bone marrow volunteer donors. It operates inside our hospital and aims at gathering samples of bone marrow transplants in order to make the procedure of finding compatible transplants easier, faster and less expensive."
Vardinoyannis noted that ELPIDA's plans also include the development of a center of excellence for specialized research on childhood hematologic diseases.
She said ELPIDA has no branch abroad, and the headquarters, the offices, the hospital and the guest house are located in Athens, adding that the co-ordination is more effective this way.
"Children and their families from all over Greece and from neighbour countries are coming to Athens, and they are supported as much as possible. They stay in our Guest House and they have access in the best possible facilities for their therapy. Wishing to achieve the most advanced conditions of treatment, we co-operate with many important hospitals from abroad."
In 2013, the ELPIDA Association launched the "Affiliations' Program" aimed at this specific cause.
"We believe that technology and science can eliminate the borders among the countries and we must use this advantage in order to win the fight against cancer. For this reason, I am confident that fight against childhood cancer can be a platform of peace, dialogue, solidarity and co-operation among countries and peoples," she said.
"In this framework we created the 'Map of Peace and Hope', which is designed to be a symbolic reminder of our alliances against childhood cancer. We have envisioned filling it with flags from many countries, reflecting our joint international efforts."
"The flag of Azerbaijan is already there and we feel very proud of it and of our collaboration. Also, Canada, Turkey, Egypt, Serbia and Cyprus participate in the program, while more countries follow such as the U.S., Qatar, UK, France and The Netherlands," Vardinoyannis noted.
She added that in Greece, there are at least 300 new cases of childhood cancer and severe hematologic disorders are registered every year.
"Some 80 percent of these children are admitted to our hospital, meaning about 270 new admissions annually," Vardinoyannis stressed. "It is important to mention that 3 out of 4 children go home completely cured."
Vardinoyannis went on to add that additionally, several hundred of children are admitted for follow up and receive daily treatment as the hospital's patients.
"At the same time, about 60 children receive transplantations at the Bone Marrow Transplantation Unit every year."
"It is important to mention that our hospital has been donated from ELPIDA Association to the National Health System of Greece, providing excellent facilities and medical treatment, and all expenses are covered by the Greek state," Vardinoyannis added.