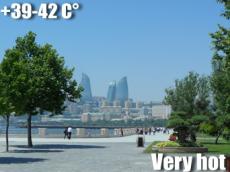 Mostly rainless weather with variable cloudy sky is expected in Baku and Absheron peninsula on August 16. Southern wind to waft. The temperature will be +22-26C at night, while and +34-39C in the noon. Sea water temperature in Absheron beaches will be +26-29C.
Eastern wind, no precipitation is forecasted in Azerbaijani regions. The temperature will be +20-25C at night and +35-40 and up to +42C in several places in the noon, while +12-17C in mountains at night and +25-30C in the noon.
Domination of the weak winds, increased weather humidity mainly in the morning and evening hours and stagnant weather against the backdrop of the high-temperature condition can cause hot weather discomfort in Baku and Absheron peninsula from August 16 up to the end of the month's second decade. And that's deemed unsuitable for most of the people, while particularly unsuitable for meteosensitive ones.

/Eco.Gov.Az/