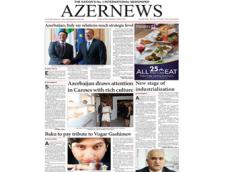 A new print edition of the AZERNEWS online newspaper was released on July 16.
The new edition includes articles about the events held within Days of Azerbaijani Culture in Cannes, the results of the 7th meeting of the Turkish-Azerbaijani intergovernmental joint economic commission in Ankara, statistics on export of Iranian oil, Armenia's unrealizable nuclear dreams, situation of GMO in Azerbaijan, participation of Azerbaijani musicians in the international jazz festival in Tbilisi and etc.
AZERNEWS is an associate member of the World Association of Newspapers and News Publishers (WAN-IFRA).
The online newspaper is available at
www.azernews.az.