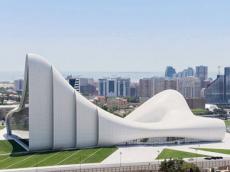 By AzerNews
London Design Museum named Heydar Aliyev Center as the winner of the "Architecture" prize, British television channel BBC reports.
The Design Museum is one of the most respected organizations in the field of contemporary design and architecture.
The Museum announced the seven category winners for this year's Designs of the Year awards.
Zaha Hadid and Patrik Schumacher won the architecture prize for the Heydar Aliyev Center, one of the pearls of modern Baku architecture.
The judges said, "It's beautiful, it's inspiring, it's the clear vision of a singular genius and we thought it was a remarkable piece of work."
Winners were also chosen in "Digital", "Fashion", "Graphics", "Furniture", "Product", and "Transport" nominations, demonstrating the best new trends and themes in design.
These seven winners will compete for the main award "Design of the Year-2014", the winner of which will be named on June 30.
Founded in 1989, the Design Museum is the world's leading museum with the exposition devoted to architecture and design. The Museum covers all areas of design, including fashion, graphic design, and others.
The overall shape of the Heydar Aliyev Center, which opened in the Azerbaijani capital on May 10, 2012, resembles a wave-like ascension from the ground towards the sky followed by a gradual descent towards the ground.
Its shape is not only a tribute to post-modern architecture, but also a portrayal of an eternal cycle. The lines on the building connect the past to the present.
The harmonious link between the exterior and the interior aspires to remove any boundaries in the building's perception considering the fact that this place is meant to be open to anyone irrespective of gender, race, and origin by bringing people together and uniting them by shared ideas.
The Center houses a conference hall, gallery hall, and museum, and holds exhibitions and concerts with the purpose of supporting cultural development and introducing world culture to Azerbaijan.
The center also tries to expand the relations between countries and people through its projects.