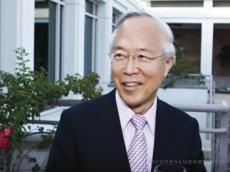 The renowned Japanese scientist and winner of the 2006 Nansen Refugee award, Dr. Akio Kanai has started his next humanitarian mission to Azerbaijan. Dr. Kanai is head of the Japanese private company, Fuji Optical and has been a generous private donor of the United Nations High Commissioner for Refugees for more than 30 years.
This will be the 10th such humanitarian mission of Fuji Optical to Azerbaijan. The mission provides free of charge eye screening and conduct eye glasses distribution to persons of concern to UNHCR, e.g. refugees, internally displaced persons and other vulnerable people. The Company started its humanitarian activity among Indo-Chinese refugees in Thailand in 1983. Since then, Fuji Optical has donated more than 141 thousand pairs of eyeglasses to refugees, IDPs and other vulnerable people in six countries of Asia, Europe and Africa, conducted vision aid missions to four out of those countries.
Today, Doctor Kanai and his team of 6 optometrists depart for South-Western regions of Azerbaijan in order to conduct eye-screening for internally displaced persons in Imishli, Beylagan, Khojavend and Fuzuli regions. On Monday, 28 April, services will be organized in Baku for refugees, and others of concern to UNHCR. The assistance program is carried out in close cooperation with the UNHCR Representation in Azerbaijan and local authorities.
About 1.8 million USD has been spent by Fuji Optical to accomplish its humanitarian activity in Azerbaijan during the last ten years. Around 39 thousand pairs of high quality optic eyeglasses and other items have been brought to the country as in-kind donation to the UNHCR operations in Azerbaijan. In total, more than 17 thousand refugees, IDPs and other vulnerable people have benefited from the free of charge vision screening services. This year, Fuji Optical has brought 4,000 pairs of eye-glasses and other vision and hearing aid items and targets to screen about 2,000 IDPs, refugees and other vulnerable people.
UNHCR is a specialized UN agency which is mandated to lead and co-ordinate international interventions to protect refugees and find durable solutions for their problems worldwide. UNHCR has been operating in Azerbaijan since December 1992 to assist the large number of IDPs displaced due to conflict over Nagorno-Karabakh as well as thousands of refugees and other vulnerable people.

/AzerTAc/