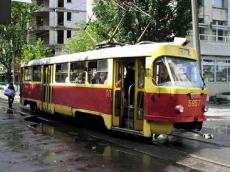 Translated by Mushvig Mehdiyev
Trams and trolleybuses are traditionally linked to public transport of the city. Once Baku has its tram and trolleybus lines which eased the transportation of people within the city. 
As "Zerkalo" newspaper informs, State Committee on Architecture and Town-building of Azerbaijan is considering five plans on renewal of tram lines in Baku, Day.Az reports. The head of the International Relations and Information Department of the State Committee Jahangir Gojayev said in March. Traditional transport - tram is planned to be brought back to Baku. 
According to the head of the State Committe Abbas Aleskerov, options have been developed on the experience of the USA, Austria, Spain and other countries by the specialists chosen during the tender. "None of the options has been opted for so far, all are under discussion. Ministry of Transport and Baku Executive Power will take upon the laying of tram lines" - said Aleskerov. 
Project itself is being developed by the Baku State Project Institute under the development project of the Plan for the regional progress of Greater Baku. "Tram lines will be laid from Azneft circle up to the Zigh highway, that is along the whole Baku waterfront. Trams will pass through the "White City", as well" - Institute informed.