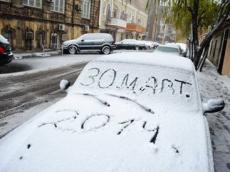 By AzerNews
The number of abnormal meteorological processes has increased in Azerbaijan as a result of climate change.
The news was announced by Trend Agency which quoted Chief Hydrologist of country's National Hydrometeorology Department of the Ecology and Natural Resources Ministry Asif Verdiyev as saying on April 9.
"In the past few years, we witnessed unstable and windy weather in April, especially in the first decade of the month," he said. "But, unlike the previous years, the number of sudden changes and their repetitions increased this spring. Compared to the previous years, the number of abnormal meteorological processes in the spring increased this year. This can be explained by the influence of climate change on the atmospheric circulation."
Verdiyev said abrupt changes in weather were observed in Baku and the Absheron Peninsula on March 30, and in some places temperature dropped by 20 degrees.
"On some days, weather changes were observed in April. During the day, there was rapid change of cold and warm weather," he added.
The chief hydrologist said the highest temperature in Baku and Absheron was observed on March 29, when it reached 26 degrees. Beginning from March 30, weather conditions have changed dramatically, and temperature dropped by nearly 20 degrees.
He said the lowest temperature in Baku and Absheron was registered on March 31, when it was 0.9 degrees above zero.
Verdiev also noted that the wind speed reached 30 meters per second, which was observed in previous years too. However, he added, such cases have become more frequent.
Azerbaijan was hit by an unexpected snowstorm on March 30. Residents of the capital and other regions of the country experienced a cold weather after a snowstorm swept their cities in a short span of time, causing many difficulties, including power outages.
The snow depth reached 42 cm in Gakh, 30 cm in Khinalig, 26cm in Kishchay, 22cm in Dashkesen and Goygol, 21cm in Ordubad, 18cm in Guba, 16cm in Lerik, 14cm in Yardymli, 12cm in Sheki, and 10cm in Nakchivan.
However, the National Hydrometeorology Department predicted that the weather will be relatively warmer and more stable in April compared to March and February.