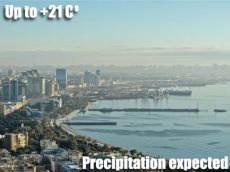 Changeable cloudy weather will dominate in Baku and Abhseron peninsula. on April 8. Weather forecasters predict misty morning and rainy evening. South-western wind will be followed by north-western blow. The temperature will be +4-7C at night and +13-18 and up to +21C in the noon.
Weather condition is going to be rainless and sometimes misty in Azerbaijani regions. Nevertheless, precipitation is not excepted beginning from the western regions. Western wind to blow. The temperature will be +3-8C at night and +15-20 in the noon, while from -2 to +3C in mountains at night and +8-13C in the noon.
Some  meteosensitive people can feel uncomfortable due to intermittent exchange of the khazri and gilavar winds in the next three days.

/Eco.Gov.Az/