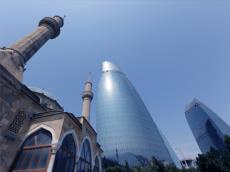 Weather on Monday, March 17 is going to have no precipitation in Baku and Absheron peninsula. Partly cloudiness to dominate along with slight mist in the morning, the National Hydrometeorology Department of the Ministry of Ecology and Natural Resources forecasts.
The temperature will be +5-7C at night and +16-18C in the noon.
Azerbaijani regions to have chiefly rainless weather/ Nonetheless, weak fog and short-term rain are not excepted in several places. The temperature will be +2-6C at night and +15-20.

/Trend/