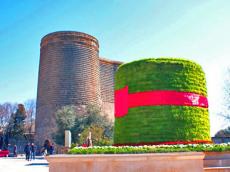 By AzerNews

As one of the most favorite holidays of Azerbaijanis, festive Novruz Bayram has already opened its way into the houses of people. Being a sign of spring, this holiday is marked for a whole month bringing a lot of joy not only to children, but also to adults.
To make the holidays more enjoyable for people, the ministers' cabinet is preparing different plans.
"I have instructed my deputy Rasim Guliyev in this regard, the work is underway," Mayor of Baku Hajibala Abutalibov said.
Festive fireworks, mass celebrations, concerts and festivals are expected to be held these days, as always.
"National Seaside Park will operate in emergency mode to ensure the safety of tourists," deputy chief Nasim Mejidov said, adding that during the holidays, the number of people visiting Park would increase.
The Interior Ministry also said the entire personnel of the ministry will work in emergency mode to maintain public law and order.
Azerbaijan's Traffic Police, in turn, urged the drivers and pedestrians to exercise caution during the holiday.
"A huge number of people are expected to go from the capital to the neighboring countryside. This will lead to traffic jam on the roads," Spokesman for the Central State Traffic Police Department of the Interior Ministry Kamran Aliyev said.
"Therefore, the traffic police urges drivers to strictly observe the traffic rules these days, and do not exceed the established speed," he added.
He said the traffic police will continue its service in emergency mode during holidays and weekends in the capital, and in some other areas.
Moreover, Aliyev urged pedestrians to be careful, cross the street only at designated locations, and use the underground passages.