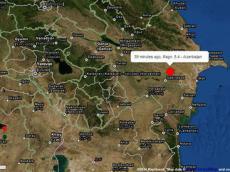 An earthquake has hit Azerbaijani capital of Baku today at 16:06 local time. The tremors were felt not only in the capital but also in the Sumgait city.
The tremors were also felt in the north and south districts of the country.
The epicentre of the earthquake was in the Hajigabul district at a depth of 55 kilometres.
At the epicenter the tremors strength was six points on the Richter scale.
In various regions of the country the tremors' strength ranged from three to five points.
There are no casualties or damage.


/Trend/


***
17:16
According to the United States Geological Survey Center, the epicenter of the quake was near Maraza settlement of Azerbaijan and the depth was  48.9 km. Tremors have also been noticed in  Baku, Shamakhi, Hajigabul and Zubovka.
***
16:32
An earthquake occured in Azerbaijan not long ago. According to initial reports, it was scaled 5.4 on Richter scale. No reports have been delivered on damages and casualties yet.
Magnitude- M 5.4
Region - Azerbaijan
Date time - 2014-02-10 16:06:48.0
Location - 40.21 N ; 48.93 E
Depth - 100 km