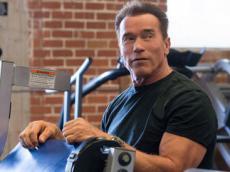 Legendary Hollywood actor Arnold Schwarzenegger will visit Baku for the first time in February, 2014, to hold the master class titled "Total Recall: My Unbelievably True Life Story".
Schwarzenegger has been invited to Baku by Successful Strategies.
Arnold Schwarzenegger is an Austrian American actor, politician, businessman, investor, and former professional bodybuilder. Schwarzenegger served two terms as the 38th Governor of California from 2003 until 2011.
He was born in Thal, Austria, a village bordering the Styrian capital Graz. Schwarzenegger began weight training at the age of 15. He won the Mr. Universe title at age 20 and went on to win the Mr. Olympia contest seven times. Schwarzenegger, who dreamed of moving to the U.S. since the age of 10, and saw bodybuilding as the avenue through which to do so, realized his dream by moving to the United States in September 1968 at the age of 21, speaking little English.
Schwarzenegger has remained a prominent presence in bodybuilding and has written many books and articles on the sport. Schwarzenegger gained worldwide fame as a Hollywood action film icon. He was nicknamed the "Austrian Oak" and the "Styrian Oak" in his bodybuilding days, "Arnie" during his acting career and more recently "The Governator" (a portmanteau of "Governor" and "The Terminator" – one of his best-known movie roles).

/AzerTAc/