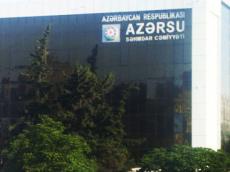 A new administrative building of 'Azersu' JSC is being built in Baku.
The head of the press-service of 'Azersu' JSC Anar Jabrayilli told.  
According to him, the facility is being constructed in Heydar Aliyev avenue. The total area of the building is 31860 square meters, while the number of floors is 20 and height is 124 meters within the project.
"Work runs smoothly pursuant to the modern standards" Jabrayilli said. 
The construction of the facility is planned to be completed in 2015. 
/Day.Az/