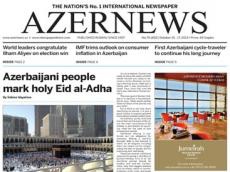 A new print edition of the AZERNEWS online newspaper was released on October 15.
The new edition includes articles about IMF`s outlook on consumer inflation in Azerbaijan, the distant prospect of Azerbaijan's accession to the Customs Union, UNESCAP`s hailing TASIM as a key regional trans-border link, the upcoming show of  the London-based Cirque Du Soir in Baku, the screening of the Miami festival short films in Azerbaijan, planned inclusion of zorkhana in Olympics by joint efforts of Azerbaijan and Iran, the long journey of the first Azerbaijani cycle-traveler, etc.
AZERNEWS is an associate member of the World Association of Newspapers and News Publishers (WAN-IFRA).
The online newspaper is available at
www.azernews.az.