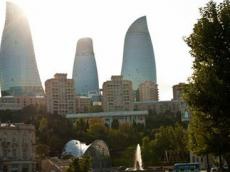 By AzerNews
Scientists cautioned of global warming as one of the dangerous climate change aftereffects a long time ago. The climate change affecting Azerbaijan has caused a decrease in the number of windy days and wind velocity. Thus, the capital city of Baku, which is informally called the "city of winds", has become less windy because of the weather changes.
Acting Director of the Geography Institute of the Azerbaijan National Academy of Sciences Ramiz Mammadov said on October 2 that over the course of the past 20-30 years studies revealed that the speed of winds has decreased in the middle Caspian zone, which includes the northern Caspian and Baku. This happened due to the changes in the global ecosystem.
Mammadov further said that at the same time, overall, less windy days are observed in Baku.
"This is a very important signal. Not only the speed of the wind has decreased, but also its direction has changed," he said.
According to Mammadov, northern and north-westerly winds dominated in Baku earlier, but they have changed the direction to the north-east in the last 20 to 30 years.
"However, the direction of Baku winds again became the same this year. This year, there were stronger winds, and their direction was mainly the northern and north-westerly," Mammadov said.
Abnormal heat was observed in Azerbaijan in the middle of winter in late 2012 and early 2013. While the neighboring countries were covered with snow, Azerbaijani thermometers showed a record temperature for the season.
Though scientists cautioned of global warming, Azerbaijani environmentalists ruled out any relation between the rise in the air temperature and global warming.
Such warm weather is caused by air streams coming from the southwest, which blocks the northern polar air streams' passage to the country.
Temperature changes of this kind more negatively affect the elderly and people with health problems. Moreover, the number of catarrhal diseases increases.
Such weather has an adverse impact not only on people's heath, but also on animals, damaging agriculture, which already sustained scorching heat last summer.