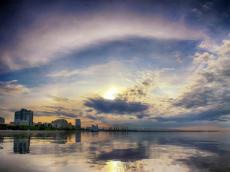 The National Hydrometeorology Department of the Ministry of Ecology and Natural Resources predicts the chiefly dry weather to be volatile cloudy and misty in some parts of the peninsula in the evening on October 2. South-western wind to intermittently intensify.
The temperature will be +16-18C at night and +22-27 in the noon.
Weather is expected to be mostly rainless in the regions of Azerbaijan. While some mountainous and foothills regions will have haze at night and in the morning. Interruptedly intensifying western wind to blow.
The temperature will be  +12-17C at night, +24-29C in the afternoon, while +6-11C in mountains at night and +17-22 in the afternoon.

/Eco.Gov.Az/