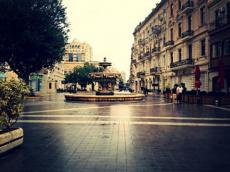 The National Hydrometeorology Department of the Ministry of Ecology and Natural Resources forecasts an intermittent rain against the backdrop of mainly cloudy weather on September 10 in Baku and Absheron peninsula. Strong northern wind will relent in the evening.
The temperature will be +18-23C at night and in the noon.
Sea water temperature will be +21-24C at Absheron beaches.
Infrequent rain is expected along with an interruptedly strengthening western wind.
The temperature will be  +17-22C at night, +24-29C in the afternoon, while +7-12C in mountains at night and +15-20 in the afternoon.
Khazri wind and considerable decrease of the weather temperature will be unsuitable for meteosensitive people. Weak and gentle fluctuation of the meteorological determinants is expected in the next 2 days.  
Unstable weather is going to be infrequently rainy accompanied by lightning in the Republic territory from September 10 to 13. North-western wind will intensify on and off on September 10.cTemperature to go 4-7 degrees down.   


/Eco.Gov.Az/