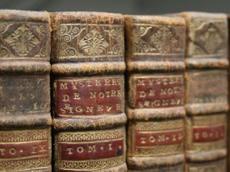 By AzerNews

Instances related to revealing illegal religious literature have decreased in Azerbaijan, the State Committee for Work with Religious Organizations said.
According to the state committee, the Azerbaijani government from time to time reveals facts on dissemination and sale of illegal religious literature aimed at fomenting religious strife and targeting the state system.
Some religious groups attempt to spread thoughts about changes in the state system. In particular, such ideas can be encountered in the literature of unconventional religious movements. These include religious books, brochures, discs, tapes and other items, the committee's report said.
The State Committee for Work with Religious Organizations, the Ministry of Internal Affairs and the Ministry of National Security reveal such literature, confiscate it and take due measures.
According to Azerbaijan's legislation, citizens and entities seeking to publish and import such literature should make a relevant appeal to the State Committee for Work with Religious Organizations. Experts of the committee analyze the appeals and publication and import of this literature is banned if the feedback is negative.
The religious groups have started to take seriously the expertise of the state committee and pay special attention to the publication and import of religious literature.
According to the committee, executives of the committee permanently conduct preventive and awareness work with religious groups to prevent negative instances, and these efforts have yielded results.
According to the amendments made to the Criminal Code of Azerbaijan two years ago, punishment for illegal release, import, sale or circulation of religious literature, items and other materials of religious content has been toughened. Doing so without pertinent permission is punishable by a fine worth 5,000 to 7,000 manats or imprisonment for a term of up to two years.
The same acts taken by a group of people, organized by a group or involving an official who uses his/her position envisage punishment in the form of payment of 7,000 to 9,000 manats or a jail sentence of two to five years.
It was reported earlier that as a result of measures taken to counter illegal import, publication and dissemination of religious literature in Azerbaijan, 791 religious books were scrutinized and import of 49 books which propagated radicalism and religious intolerance declined.
The State Committee for Work with Religious Organizations was established by a decree of the former Azerbaijani President Heydar Aliyev enacted on July 21, 2001.
The Committee is a central executive body in charge of the state policy relating to religious activity, which ensures compliance with the domestic legislation, and coordination of the work of relevant executive authorities regarding religious institutions. The Committee does not provide financial assistance to any religious institutions.
The Committee is headed by its chairman who is appointed and dismissed by the President of Azerbaijan and bears personal responsibility for the duties assigned to the Committee.
According to Azerbaijan's law on religious faith adopted in 1992, everyone has the right to believe in any religion, to express and spread his or her opinion about religion. All religions and religious organizations enjoy equal rights in Azerbaijan.
However, it is forbidden by the law to propagate and spread religious ideas related to racial, ethnic, religious and social hostility that contradict the principles of humanism. The law also bans religious propaganda by foreigners in Azerbaijan.
More than 570 religious communities have been registered in Azerbaijan so far. 555 of them are Islamic, and 21 are non-Islamic communities.
There are 12 Christian, 6 Jewish, 2 Bahai and a Krishna community among the non-Islamic religious organizations.