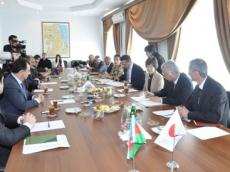 Japan`s Ambassador to Azerbaijan Shusuke Watanabe and head of the Azerbaijan Democratic Students & Youth Organization [ADSAYO] Asif Asgarly have inked a grant contract for construction of a medical point in Zevlya village in Lankaran region.
The project will be implemented under the Japanese Government`s "Grass roots and humanity security grant assistance programme".
The project aims to improve quality of medical services in Zevlya and in three neighboring villages. The total amount of the Japanese Grant Assistance for the project is about $123,400.
Four grant agreements have been signed so far as part of the Grant Assistance Programme in Lankaran.
"The new Medical Center will consist of seven rooms to be supplied with modern equipment," said Asif Asgarly, whose NGO will implement the project.
Asgarly said ADSAYO had implemented six projects in the country, including three ones in Lankaran under the Grand assistance programme of the Japanese government.
"Grassroots and Human Security Grant Assistance Programme" supports projects applied by municipalities, medical institutions, and NGOs, aiming directly at the improvement of living standards of Azerbaijani people.
Such projects might be implemented in the field of poverty reduction, social protection, infrastructure, public health and increase of incomes. The total number of projects contracted in Azerbaijan including this time is 164, and the amount is USD 13,012,807.
The total amount of Japan`s Official Development Assistance provided for the Republic of Azerbaijan is over $1.3 billion, covering a wide range of areas such as improvement of economic infrastructure, agricultural and social sectors, cultural field as well as human capacity development.
/AzerTAc/