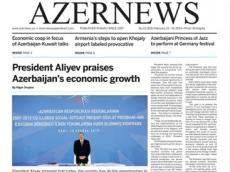 A new print edition of the AZERNEWS online newspaper was released on February 15.
The new edition includes articles about the conference by the chairmanship of Azerbaijani President Ilham Aliyev dedicated to the results of the fourth year of implementation of the State Program for socio-economic development of the regions in 2009-2013, the second session of the Azerbaijani-Kuwaiti intergovernmental commission on trade and economic cooperation as well as the upcoming performance of Azerbaijani Princess of Jazz – Aziza Mustafazade at the  Nurtinger Jazz Festival in Germany in February 22.
The readers can also read an interesting article about horse-riding traditions in Azerbaijan.
AZERNEWS is an associate member of the World Association of Newspapers and News Publishers (WAN-IFRA).
The online newspaper is available at www.azernews.az.